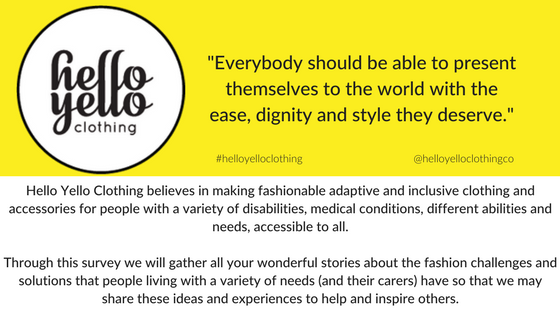 At the Centre we occasionally come across projects and stories launched by people who have been affected by Cancer. One such project is "Hello Yello Clothing".
Hello Yello was born from one person's vision after she lost her amazing sister in August 2017 after a 15 month battle with a rare form of cancer.
Over the final year of her sister's life, they shared a common passion – a passion that was borne out of the sister's lived experiences during this challenging time. They both passionately believed that people living with a medical condition or disability, should have easy access to clothing that gives them independence, makes them feel like the person they truly are, and thereby living every aspect of their life as themselves, and not being defined by their illness or condition.
They spent many hours talking about and researching this issue, and out of this Hello Yello Clothing was created.
Below is a link to a short survey designed to gather stories about the fashion and clothing challenges and solutions that people (and their carers) living with these illnesses or different abilities and needs have experienced.
Please share this survey with those who you feel have a story to tell. These are people who are living with a disability, medical condition or who have different abilities. They are people who have different needs in relation to clothing and/or experience difficulties in dressing themselves for one reason or another.
Through this simple survey, and the Hello Yello initiative, they hope to bring together a community of people who will share ideas, experiences and solutions – and together, bringing people with these needs, a step closer to the ultimate aim, and that is … to Be Yourself.
https://www.cognitoforms.com/HelloYel…/Helloyelloclothingcom