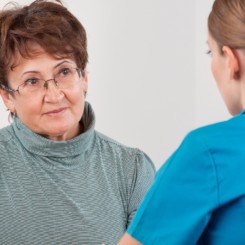 Counselling is a major complementary health care service in cancer support.
The counsellor will assist the client in dealing with issues and emotions felt on the cancer journey.
Sessions are strictly confidential between the counsellor and the client.
All counsellors practicing at Cancer Care Centre are fully qualified and registered with the Psychotherapy and Counselling Federation of Australia (PACFA).
Full definition of counselling can be found on the PACFA website here.
"PACFA registered counsellors have completed an undergraduate or postgraduate counselling qualification. They are expected to participate in ongoing professional development and supervision, including their own counselling, to stay current with developments in their profession and to ensure safe, ethical practice. "
Counselling can be undertaken by a single person, a couple or family group.
Contact the staff on (08) 8272 2411 for more information.
The Cancer Care Centre provides high quality complementary support for cancer sufferers, their carers and family groups. It is a place where people can get information, support and compassion. Most importantly it is run by people who care for people.
I have been finding my counselling sessions over the past year to be extremely helpful. It has allowed me to gradually gain awareness of my very troubled and hurting child between ages 6-12 years. I have been counselled on how to use meditation to support my child self and have felt the benefits of this. I have felt love and forgiveness. I know there is more to heal and I will be continuing working with Dagmar. I have also recommended her to others. I am very grateful to the Centre for helping this to be possible. I don't think I would have sought out a counsellor independently.

Lou
Meet Our Counsellors

Ms Lynne Murphy
Lynne has been a volunteer at the Cancer Care Centre for 17 years as a support worker and the last 11 years as a Counsellor. Prior to joining the Cancer Care Centre, Lynne was a Registered Nurse for 33 years and worked with clients who have had cancer in both the acute and palliative sectors.
Lynne works closely with clients and their families to help them make positive changes through active listening, strategy formulation and support. This helps clients to find hope and peace of mind to cope better through their cancer journey and beyond.

Ms Lee Hutton
Lee has a Masters in Social Science (Counselling) and joined as a member in 2015 and as a counsellor at the CCC in 2017 . She brings with her years of experience in personal counselling from private practice and in a educational setting.
Lee understands that people often have different responses when either personally diagnosed with cancer or when a loved one is. However, it often brings shock , questioning, fear and anxiety to the forefront as one tries to navigate their way through diagnosis, illness, treatment, lifestyle choices and beyond. Feelings of grief and loss can accompany these changes. Lee believes that counselling support for emotional and mental aspects of the experience can assist enormously. This process can benefit ones physical wellbeing as evidence of the mind/ body connection continues to suggest.
Lee uses a person centred approach and varied counselling techniques in her practice , providing a safe place for clients to confidentially share what they are experiencing , and together they may explore and develop their coping strategies to support their daily living , a healing process and overall wellbeing.

Ms Helene Hipp
Helene is returning to counselling at the Cancer Care Centre after 2 years of living in Queensland, where she worked for a hospice as a palliative care and bereavement counsellor. She has a post graduate qualification in Grief and Palliative Care Counselling and has done some further studies in Spiritual Care with the Dying while working with a Buddhist organisation. Prior to moving interstate Helene volunteered at CCC for 7 years and is herself a cancer survivor.
She works with clients and their families, using a variety of techniques, so that they can find what best fits for their own circumstances. Her aim is to provide a safe space for clients to explore what is happening for them and how best to move forward from a place of empowerment and wisdom, even when they are feeling their most vulnerable.
Ms Naomi Kelly
With over 25 years of experience in health and education sectors, Naomi has embraced roles as a Registered Nurse in regional South Australia (Central Yorke Peninsula), supported people in their home environment as a Community Nurse and more recently, counselled young people and their families in their homes, schools and the workplace.
Born in the USA, she spent some of her Primary School years in the Highlands of Papua New Guinea. She has lived and worked in South East Asia for 17 years, travelling extensively in the area and beyond. She is humbled by the opportunities for culturally diverse enrichment that she has had.
Naomi is a very experienced counsellor who is accredited at Level 4 with the Australian Counselling Association. She has a Masters of Counselling and upholds a conviction to holistic care. She is a laughter yoga facilitator and mindfulness practitioner. Her labradoodle, Sunny, brings joy to many and often helps her therapeutic work. Naomi is self-employed and runs her own counselling practice, Naomi Kelly Consulting. She is energised by diversity and honours the individual experience. She brings a sense of calm to empower individual and collective wellbeing with sensitivity and joyful curiosity, celebrating the good things in life.
Maintaining her own wellbeing is integral to her practice. She gets great joy from being in the natural world through bushwalking, cycling, snorkeling, stand up paddle boarding and more recently 4 wheel driving.
She will be facilitating the Women's Support Group every 1st and 3rd Friday from 10am-12noon.